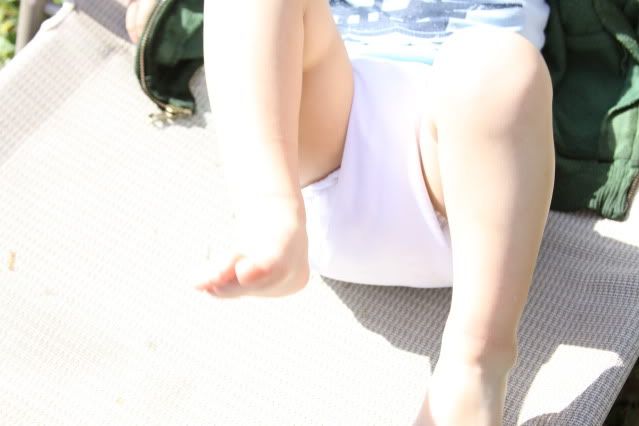 Cooper in a Bum Genius pocket diaper
As some of you may know, we use cloth diapers. We started when Cooper was about 8 months old. A few of my pregnant friends and just curious friends have been asking me to tell them what I know about cloth diapering so I decided that I would try and do a blog post. I am in no way an expert, but have been at it for almost 2 years so I will give it a go.
Why We Made the Switch
Like most, we started out using disposable. Why? Well, that was just what was done, right? Everyone used disposable, I actually didn't know one person who used cloth (still don't know many). When I thought of cloth diapering I thought of old school rag diapers that you fastened with a pin. I also thought that it meant using a diaper service. It never even occur ed to me that there are many modern cloth diapering options. Then I read a fantastic article in
Mothering
magazine. If you aren't familiar with Mothering magazine, it is a fabulous resource and support for natural parenting. I love it and look forward to it every 2 months! Any who... this article, which I bet you can get online somehow, explained all of the different types of modern cloth diapers and showed just how darn cute they are.
Most importantly, it discussed the horrible environmental impact that disposable diapers have. Of course you hardly ever hear about that side of disposable diapering, but it really is a problem. For instance, did you know that throwing human waste in a land fill is actually illegal? Yup, illegal. Why? Because human waste needs to be disposed of properly and if it goes into land fills it can potentially get in the water system. Not to mention the fact that disposable diapers sit in land fills for up to 400 years! That means that if your mom used disposable diapers on you, your poopy diapers are still in a land fill and will be for many, many, many years! An argument for disposable that you will hear which is a valid consideration is: don't you waste water washing cloth diapers, so in turn you are still negatively impacting the environment? This is a valid concern, however bogus. Diapering services, which are still in use DO use a ton of water to wash their diapers so washing at home is the most environmental way to go. Washing at home uses no more water than if the child were flushing the toilet numerous times a day, so it evens out. Another huge reason we decided to go cloth is the amount of chemicals used to make disposables. We did not like the idea of those being against our babies skin. So.....we switched.
Types of Cloth Diapers
There are so many types of cloth diapers out there that I simply can't explain it all here. I don't' have the knowledge or the time. A good way to learn about your options is to go shopping online and read the descriptions about each type of cloth diaper. My favorite web site to buy diapers is
Wildflower diapers
. This website will show you some of the most popular diapers out there and has an explanation of how they work. Another great website is
diaper pin
. This website gives reviews on cloth diaper products and answers many diaper questions that come up.
So, what type do we use?
We use a combo of
pocket diapers and pre fold diapers
. Pre fold diapers are cheaper but a bit more challenging to use. They are much like the old fashioned kind that you have to fold into shape and they need a cover. We use these while our pocket diapers are in the wash. You can use the cover over and over again, you just have to change the pre fold. They are getting harder to use as Cooper gets older because he has to lie down and sit still (right!) in order to get them on well. You don't need pins like you did in the old days because the cover fits snugly enough to hold them in place and the covers are super cute!
The pocket diapers are wonderful! They work just like disposable diapers. You stuff an insert into the "pocket", hence the name, and then they are ready to go. They either have Velcro or snaps and they are not bulky at all. These are one time use, you wash the whole thing after every change.
For baby girl, we are going to start cloth diapering right away. We are going to use a combo of
fitted and pre fold diapers
when she is a small baby and then move on to Coopers diapers when she gets a little older, because he is going to be potty trained by the time she needs bigger diapers, ahem... or at least that's the plan :) Fitted diapers are diapers that snap into place and then require a cover.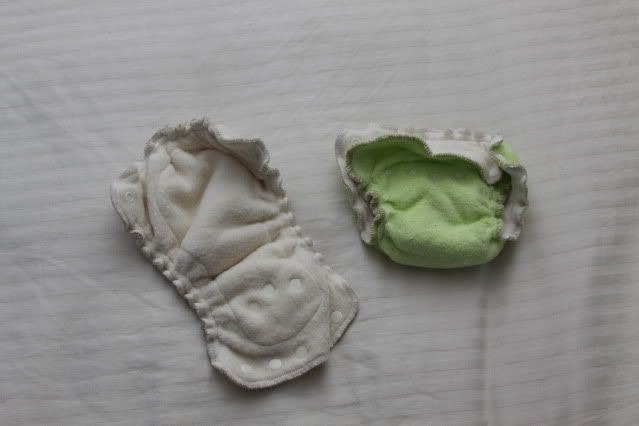 How cute are these fitted that I picked up for baby girl?
Don't they leak all the time?
Nope! Really, I am telling the truth. They hardly ever leak! Cooper wears a pocket diaper at night with an extra insert for up to 12 hours and he hardly ever has leaks. That's pretty good! If your diapers are leaking, it is likely because of detergent build up or a bad fit.
What do you do with the poop? Yuck!
You shake off solids into the toilet and we have a little
sprayer
that attaches to the toilet to get off the stuck on solid stuff. Then you throw them into your pail and they are ready to be washed. Nothing needs to be done with the urine diapers, just wash.
How do you wash them?
Washing can be a bit tricky but once you get the hang of it, it's not hard at all. We do a cold wash with no detergent, a hot wash with about 1/4 of the detergent you would use for a large load (less if you have a front loader), then an extra warm rinse. That is what we do. Many cloth diaper users have their own routine and you will get yours down too. The most important factor is the detergent you use. You have to choose one with no softeners or additives, so a free and clear type. We use Purex Free and Clear, it's cheap and it works. If your diapers are still stinky after washing or aren't absorbing properly you need to adjust your routine or perhaps need to
strip
them. We wash about every 2 or 3 days.
Cost?
If you are going to use a "fancy" cloth diaper, like a pocket type, the up front cost may seem a bit scary. They run anywhere from 13-30 bucks each. But, once you buy them, thetas it! You never have to spend money on diapers again! If you use pre-folds, they are only a few dollars each and the covers are anywhere from 5-20 bucks each. Fitted diapers run about the same as pocket. I have a friend who gets hers used on Craig's list, so that's a great economical option. You can also get them on
seconds websites
. You save money in the end and buying disposable diapers is basically like buying trash!
So that's what I know. I hope this helps and that some of you choose to switch. It is so easy and dare I say fun! Plus, it is a great thing to do for the environment! We aren't perfect, we use disposable when we travel and when he is with Grammy and Po they prefer disposable. When we first started, we started slow, using disposable at night and when we were out and about. Once we got the hang of them, we realized how great they were and pretty much stopped using disposable all together. I would say we buy one to two packages of disposable diapers a year.
Good luck and happy diapering!