The past week has been a true test of my patience on many fronts. For one, I was once again a fool as I was with my pregnancy with Cooper to think that I was going to give birth early. I believed this because I am dilating and contracting regularly. So I think "hey if I am already 3cm, then I must be close, right?" Wrong? This is the same situation I was in with Cooper almost 3 years ago. So here I am. Still pregnant. Uncomfortable. But, I haven't even reached my due date. So I need to relax.
But, I think this is quite the blessing in disguise. My little man is very sick right now. It started with an ear infection last week that would not get better. A fever that kept coming back. Hummm... so a change in antibiotics was in order. Well, after he took the new antibiotics he broke out in a rash, a nasty one at that, his first rash ever. Did I mention this is only the second time he has ever needed antibiotics. An allergic reaction to the antibiotics, right? Wrong again. That would have been too simple. Apparently when you give certain antibiotics to someone who has Mono, they get a rash. Perfect. But luckily, our pediatrician is great and figured this out right away. So now we know what we are dealing with and what to expect. Viruses suck! They have to "run their course" and you have to simply do what you can to make your little one comfortable and "wait it out". Well, we have a very lethargic and itchy little guy. Luckily, now that he is not on the antibiotic the rash seems to be getting better but as far as the mono goes, it could be a while before our spunky boy is back.
He has been all about his mommy and this would have been very tough had I been in labor or had a new baby. So, thankfully, she is safely within my womb getting all the immunities she can from all the illnesses floating around my house right now. I have disinfected the house twice over in preparation for her arrival. Most importantly, I have been able to give my boy plenty of attention during this time when he feels so bad. There has been a lot of cuddling and napping on the couch.
So now we keep waiting. Waiting for our healthy boy to return and waiting on a healthy girl.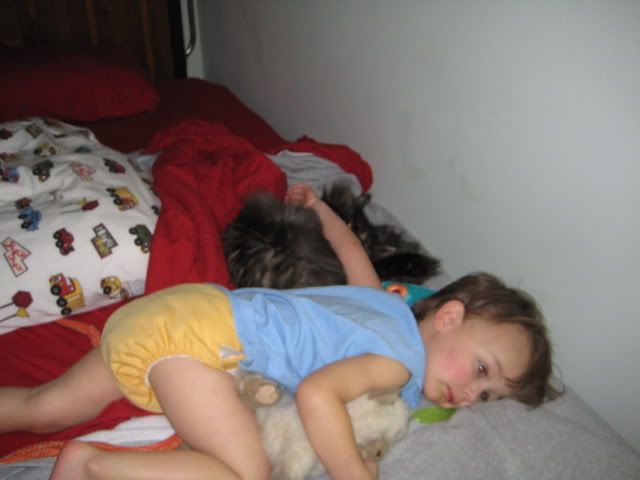 cuddling with Sophie, his kitty