It has been a while since I have posted. I must say, I have been busy. I have been anxious about he new addition coming our way. I feel like once this baby is born I won't have time to do a thing. This is probably partially true and partially just my nesting hormones kicking in. Our home is small so she does not get her own room but we are styling out Cooper's room as he is getting a new bed from his cousin Evan that is a train! We are arranging a small area of the room for baby girl with the changing table and her name on the wall. We will put a crib up when one is necessary, as of now she will be in our room.
I will be completly honest, I am nervous. For the past 2 and a half years I have been able to devote all my attention to Cooper and sometimes I feel like there is barely enough of me for him and now I am going to have to spread myself out even more. I know many moms have gone from one to two and many more will without any problems but as I said, I am nervous. I think I am most worried about how my boy will handle the change. He seems very excited but I know he has no idea how much things are going to change for him and it saddens me a bit. I also know, having many siblings, that there is nothing like a brother or a sister. Nothing.
So now I shall exhale and enjoy the next few months that I have with Cooper as a single and I know that my heart will grow twice in size once we are blessed with baby girl.
Have a lovely weekend!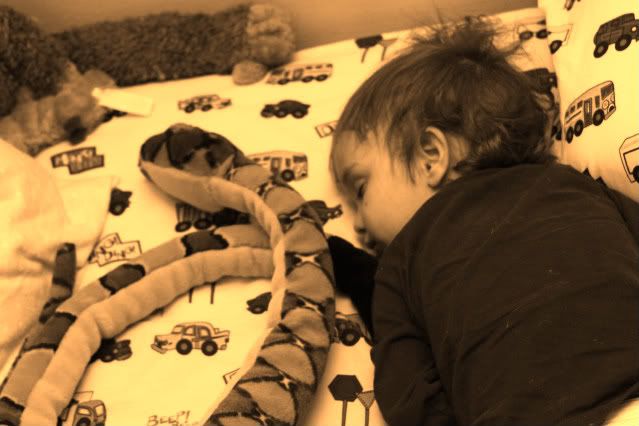 Here is my sweet baby boy sleeping with his snakes. He is going through a reptile stage, hopefully it passes as we will never have a live reptile in this house! Quote me on that if I cave later!